VRD-E forecourt card reader
PURPOSE
---
VRD-E card reader with Ethernet interface is intended for reading of EM-Marine contactless identifiers (125 kHz) and its transmission using Ethernet interface (optionally readers able to read Mifare identifiers (13.56 MHz) and EM-Marine identifiers (125 kHz) are present). Reader provides reading of code from distance from 50 to 100 mm (depending on the conditions of operation).
Reader is provided as for internal installation (near computer, in this case interface of the reader is Ethernet and its power supply is taken from USB-port of the computer) and also for outdoor installation in waterproof case and electrical board covered with weatherproof paint (for installation near fuel dispensers, in this case interface and power supply is taken from 12 V DC power supply).
Reader allows to configure buzzer and 2-colors LED for indication (green and red LEDs).
Example of reader installation near fuel dispenser:
TECHNICAL SPECIFICATIONS
---
| | |
| --- | --- |
| Parameter | Value |
| Type of contactless identifiers read | EM-Marine (optionally Mifare + EM-Marine) |
| Power supply voltage | 8…14 V DC |
| Average consumed current | 200 mA |
| Peak consumed current | 250 mA |
| Communication protocol | TCP/IP |
| Length of Ethernet cable | 1 m |
| Dimensions | 95 x 68 x 20 mm |
| Weight | 0.1 kg |
| Operation temperature range | -40…+85 deg. C |
CONNECTION TO ETHERNET
---
Reader is equipped with 8-wire Ethernet cable, through which it is connected to Ethernet network and power supply is given (for power supply also USB interface cable can be used in readers for internal installation).
Pinouts of Ethernet cable
| | | |
| --- | --- | --- |
| Color | Number | Appointment |
| White-orange | 1 | Standard Tx+ |
| Orange | 2 | Standard Tx- |
| White-green | 3 | Standard Rx+ |
| Blue | 4 | +U 8…14 V DC |
| White-blue | 5 | +U 8…14 V DC |
| Green | 6 | Standard Rx- |
| White-brown | 7 | GND |
| Brown | 8 | GND |
Electric scheme of reader connection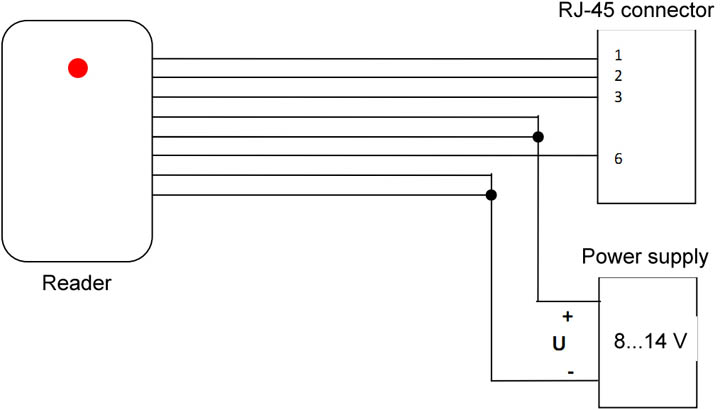 CONTROL OVER READER
---
Data exchange is done using packets. Packet from reader to computer contains code of identifier (card). Packet from computer to reader is not obligatory and is used for control over reader's indication. Protocol of communication is described in reader's technical guide. Open source software application in C# and VB.NET languages is free for downloading.
ORDER INFORMATION
---
VRD-E card reader for internal installation with power supply from USB-port


Order code

: VRD-INT-001
VRD-E card reader for external installation in waterproof casing


Order code

: VRD-EXT-002
EM-Marine type card identifier with image


Order code

: CRD-EMR-001
EM-Marine type card identifier blank


Order code

: CRD-EMR-002
Mifare type card identifier with image


Order code

: CRD-MFR-001
Mifare type card identifier blank


Order code

: CRD-MFR-002
---
Downloads
Ask YOUR questions about
"VRD-E forecourt card reader"
---
Other products of section:
Automated fuel management system NaftaPanel
NaftaPanel - automated fuel management system for petrol stations on the basis of NaftaPOS software, panel PC and PTS forecourt controller. Application of the panel PC allows to use the system comfortably in the places, where it is difficult to install stationaly POS terminal or personal computer.
Self-service terminal PINPAD for petrol stations
Terminal "PINPAD" (further in text referred as Terminal) – is self-service terminal intended for provision of self-service at petrol stations. It has wired/wireless communication and is equipped with a built-in display, keyboard, RFID-reader (Mifare/Em-Marine standards) and Wi-Fi module.
Pumpheads - electronics and indicators for fuel dispensers
Fuel dispensers' pumpheads (electronics and indicators) UNICON-TiT are designed for provision of control over fuel dispensers (pumps) to deliver liquid and liquefied petroleum products and visualize this process on indicators of the dispensers.
Price boards for petrol stations
Price boards are manufactured in two versions: for outdoor and indoor application. Price boards for outdoor application have a function of automatic brightness adjustment depending on external luminescence.
Wireless interface converter for petrol stations
RFC converter is appointed for establishing of wireless communication between devices having interfaces RS-232 and RS-485.
Wireless petrol station
For reducing the amount of mounting work during installation of petrol station it is possible to make wireless connections. Using a wireless petrol station can reduce the cost of maintenance of equipment at filling stations, increase the efficiency of consumption of petroleum products.
Computer system of control and account
Computer system for management of petrol station equipment (fuel dispensers, cash registers, ATG systems, etc.) and accounting of fuel and related products sales
The control console for fuel dispensers and automated accounting of fuel sales
The console not only provides control of fuel dispensers, but also has the ability to connect level gauges, send information to a data collection system, to connect the fuel card system with card readers, and keep track of fuel and related products